I've always wanted to be an artist, just like my Dad, as a matter of fact it runs  in the family. I have been incredibly lucky in that I have always been supported and encouraged by my family, whether it be parents, husband, friends or my son.
I was accepted it into the National Art School at 15, and spent the next 5 years learning and immersing myself with arty farty types, they were good times.
When I left art school I thought I would be the next sensational artist to rock the world, I saw myself starving in a garrett and producing work that would affect people's lives; little did I know :).
When my parents moved to the Gold Coast from Sydney, I had just finished art school and having no money whatsoever, I went with them. With high hopes I carted my portfolio to a gallery in Surfers Paradise, (I think there was only one gallery in Surfers) and was absolutely dumbfounded when told I had no talent and to find another career.
I was devastated – I didn't/couldn't touch paint for nearly 10 years.
But somehow ………… my dreams survived that day.
Eventually I started to work again, I had lost many of my skills and I needed to work hard to bring them back. It took quite a few years to get to the stage where I had the confidence to approach a gallery again, but I did – and was offered a solo show. I couldn't believe my luck!
I felt I'd finally made it – the dream of all artists before on-line galleries was to have their own solo exhibition.
Margaret Olley said that her last  painting was her best painting so there is always a better painting, a better creation to come with your next piece, your next artwork is always going to be better.
To that end I haven't stopped working and creating and trying for that perfect piece since.
I have quite a focused routine. I'm usually up by 5am and in the studio painting immediately, although I do stop for a coffee on my way. Whether I'm tutoring or working on my own creations, you can usually find me there 12 hours a day, most days.
I love to work with oils, watercolours, inks and the dry mediums like graphite and pastels. I find inspiration and excitement in everything – I'm a little like a kid in a lolly shop when I go to an art supply store (well that's where you'll find me if I'm not at my easel) and I simply have to get everything!
My process begins with an image that talks to me and I start to get inspired, my next decision is which medium would work best with my concept, so you see I need all those different materials (at least that's what I tell my husband) as a result my work is quite diversified – but I believe that is a reflection of our own personalities.
So that's my story so far, the next chapter is looking exciting!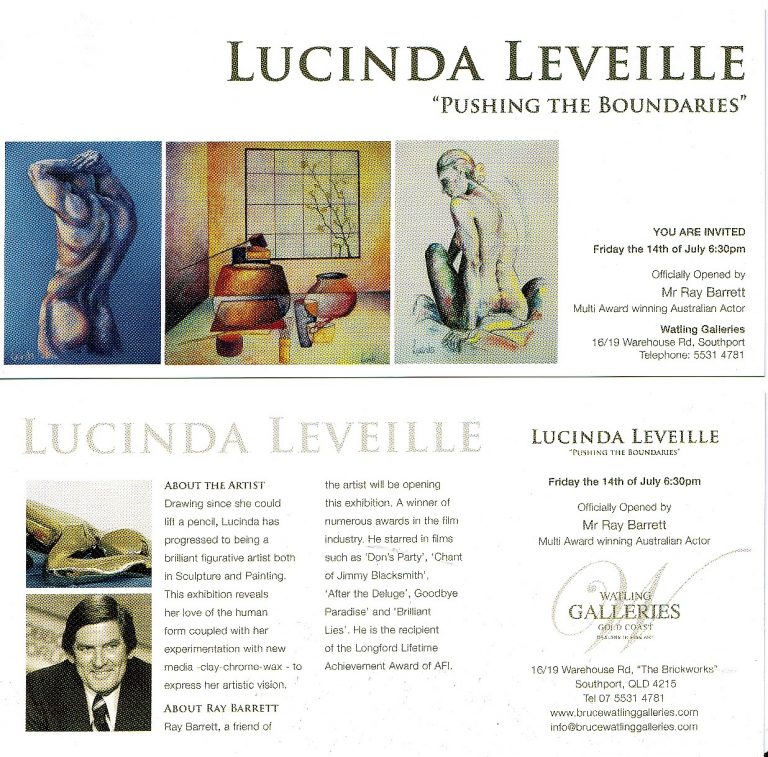 2012 The Nudes – Pauline Evers Fine Art, Toorak VIC
2010 New Works – Pauline Ewers Fine Art, Toorak VIC
2006 Pushing the Boundaries – Bruce Watling Galleries, Southport QLD
Selected Group Exhibitions
2022 Art Lovers Australia, Southport Gallery, Collectors Edition Exhibition
2021 Art Lovers Australia Southport Gallery, Renewal landscape exhibition
2021 The Space Gallery, Summer Vibes Exhibition
2018 The Morris Art Prize
2018 Artlovers Australia Prize
2018 Lethbridge Small Scale Award
2018 Coast To Country – 10 Women Artists
2010 /21 d'arcy Doyle Art Awards
2008 The Mortimore Art Prize and Traveling Exhibition
2002 Society of Sculptors Gold Coast,
2021 Home Design Magazine, November Two page article
2019 Home Design Magazine, September, Artscape section
2018 Home Design Magazine, November full page feature
2018 Artlovers Australia Book, page 6
2018 Art Edit Magazine, Summer Edition issue 16, p 69 and 108
2018 Artsy Shark Autumn, feature artist
2007 Women In Focus Magazine, August feature p39
2006 This Month on the Broadwater, July feature p5
2003 Gold Coast Sun Newspaper, January feature article p10
Selected Collections & Commissions
2020 Parliament House, Canberra
2020 The Treasury, Canberra
2014 Gold Coast Volunteer Coast Guard
2004/7 Gold Coast Italo Australian Club
2013 Gold Coast City Council, Nerang Library
2012 Nerang Chamber of Commerce
2001 Private collection, Gladstone, Queensland
2000 Private collection, Rockhampton, Queensland
1999 Private collection, London
1998 Private collection, Spain
2022 Art Lovers Australia, finalist
2021 Bluethumb Art Prize, finalist, sculpture
2021 Art Lovers Australia Prize, finalist
2019 Heritage Bank, Lions Club, Highly Commended
2018 Morris Art Prize, finalist
2018 Artlovers Australia Prize, finalist
2018 Lethbridge Small Scale Award, finalist
2013 d'arcy Doyle Art Awards, Highly commended
2002/5 Sculptors Society, various awards
1998/2015 Gold Coast Show Society, various awards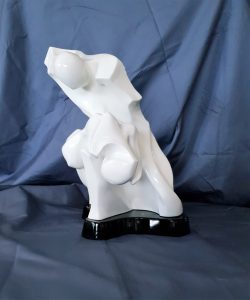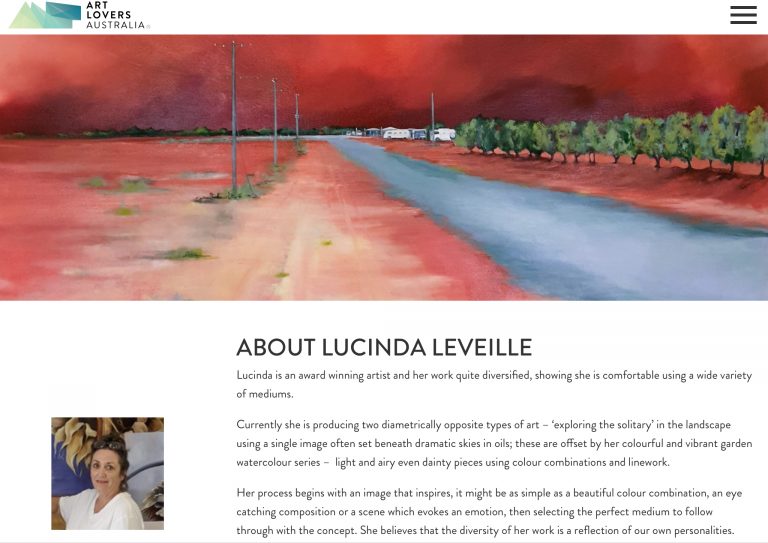 2022 Art Lovers Australia, – Trusted Sellers
2021 Art Lovers Australia – Top 20 Sellers
2018 Art Lovers Australia – popular artist
2018 Bluethumb On Line –  feature/studio artist
2016 Gold Coast City Council Artist showcase