Art Classes on the Gold Coast
Drawing is where it all begins – if you can draw- you can paint.  Any serious artist starts their journey with pencil in one hand and paper in the other.  It's not to say that you must learn  how to draw but it certainly helps with your art practice.
Many of the disciplines and techniques you learn as an artist are found here.
Learning to see like an artist – line, texture, shape and tone are easily established with a pencil – besides what could be more affordable that the humble pencil and paper?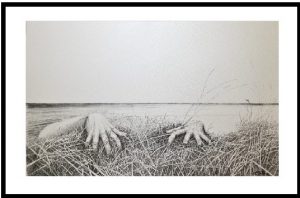 Acrylic & Mixed Media Classes
Acrylic painting is a relatively new medium to the world of art.
Most people starting out will often choose to begin with acrylics – but there is so much more than just simple paint!
Acrylics are a very versatile medium – you can use many different elements with acrylics – collage, pourings, oil pastels, resist, wax, alcohol inks – the list is huge.
The studio is the perfect place to explore!
I think watercolour has come of age in the 21 st century as a vibrant and colourful medium, not the boring wishy washy paint we often associate with watercolour. So much to learn and explore in this amazing versatile medium!
It has been said that watercolour is the hardest medium to learn and can take a lifetime to master!
That's very intimidating – I think that many people perhaps are turned away from watercolour because of that very reason. Well, I also think anyone with enough patience, practice and determination can paint in watercolour with confidence and produce pieces that you can be proud to hang – give it a try!
The watercolour lessons are designed for the total newbie through to the more experienced watercolourist wanting to experiment and expand their techniques.
You will learn about the qualities of watercolour pigments – those which granulate, the ones that are better for an initial wash.  How to apply your watercolours from a wash to small and intricate detail work.
Then of course we also look at mixing it up with oil pastel, inks, oil paint and collaging – just to make it more interesting!
Oils are the choice of the old masters – some of the most well known works in the world were painted in oil paint.
Nowadays, there are mediums to allow your paint to dry in one day instead of the long drying time that we have always associated with oil paint. One of the other drawbacks has often been the smell ! Well no more! There are low odour paints, solvents and mediums all available to you.
Some of the most beautifully vibrant pigments come to life with oil painting – so if you have considered trying oils but were worried about the smells and the long wait between layers – there's nothing stopping you now!
Classes are available for all levels – please just get in touch!